Semi-finished products
Marlan® Solid Surface semi-finished products are manufactured in Leek (Netherlands). After the material is processed into plates and shapes, it can be glued seamlessly into all kinds of final products, as you can see on our inspiration page.
Our extensive program of semi-finished products is intended for the use by processors. Semi-finished products are finished unto grit 280 and require further finishing for a good final result. You can find these processing instructions on our page for processors.
Our standard plate sizes are: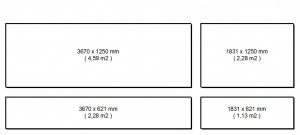 Plate sizes Marlan® semi-finished products.
Colors
Our collection of semi-finished products is available as standard in a wide variety of colors. Plates are always available in all of these colors, and always with our usual short delivery time. Shapes are available in 75% of these colors, with a variable delivery time depending on the order.
Besides our standard color assortment, we also offer Marlan® custom colors. With this option we have proven more than once to be a solution for various customers (Tommy Hilfiger, Disneyland and City Theatre Utrecht).
For more information, please contact us.