Marlan® and Dyson®
Partnership Marlan and Dyson
Dyson has developed a fantastic tap with integrated hand dryer, the Dyson Airblade Tap. The use of the Dyson Tap saves space, cleaning time and paper. At Marlan we saw this as the ideal combination with our product. Our product also saves cleaning time and is highly hygienic.
Since Mai 1, 2017, we are partner of Dyson and together with Dyson offer a combined product. Our Vivace tailor-made sink in combination with the Dyson tap.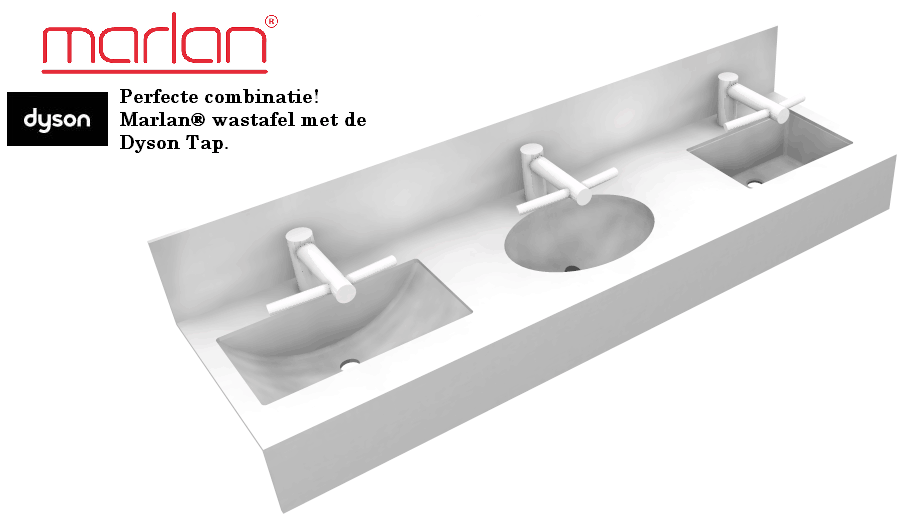 The perfect sink for the Dyson Tap
Together with Dyson we tested the combination of the Dyson Tap with several of our sinks. We tested the ideal distance between the tap and the sink, and the ideal position both horizontally and vertically.
The air leaves the hand dryer with a speed of about 700km/h. This causes quite a 'storm' in the sink. Besides, it is important that the water flows to the drain in time and that water remains are not blown out of the sink, but into the drain.  
The success of the test depended of the water not being blown out of the sink. Three of our sinks were tested as excellent: Leolan, Swing and Florence.
These sinks, which turned out to be a perfect combination with the Dyson Tap, are displayed in the picture above. Each of them can be glued into a Marlan® counter top without a single seam.
Besides different kinds of sinks, Marlan offers a large range of colors. Our sinks are available in all of these colors.
For more information, please contact us or request a color sample or quote. If desired we can make a drawing based on your sketch, which you can easily upload through our quote form.